By

Susan Tatsui-D'Arcy
30 / Mar / 2015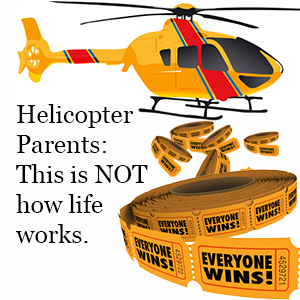 Did you know that there are parents out there who will stop a game between a group of kids before the game is over? Who would do this? People who don't want their kids to experience failure. Which is pretty much the best way I can think of to guarantee future failure.
I mean, what lesson is being taught by stopping a game before the end? That mom or dad will always stop anything bad from happening to you? If you lose sometimes, doesn't that make winning even sweeter? There are so many lessons that are lost when helicopter parents (hovering protectively over their children and micromanaging their lives) attempt to shield their kids from the normal things that happen in everyday life.
What are they thinking? Competition fires up the adrenaline, gets the wheels turning upstairs and gets kids to strategize and to work as a team. THESE are vital life skills.