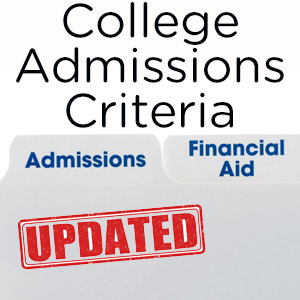 Is your high school keeping up?
Finally, colleges are recognizing that GPAs and SAT/ACT scores alone don't give them enough information to select students who have potential for success in college. 
Rhode Island has recently adopted a new diploma system that requires students to demonstrate competency in the following areas:
Critical Thinking
Problem Solving
Research
Communication
Decision Making
Interpreting Information
Analytic Reasoning
Personal or Social Responsibility
More colleges are jumping on board as they realize that these portfolios give them a more comprehensive peek at student performance that isn't only GPAs and standardized test scores. These colleges support and participate in this new movement:
Calif Community Colleges
MIT
Pomona College
Smith College
UC Riverside
Univ Michigan
UT Austin
I've watched Merit Academy students do projects throughout their 4 years of high school for the past 18 years.  Doing these individual projects over their entire high school tenure gives students a sense of confidence and pride that they don't get from working for grades and standardized tests. Brainstorming and developing projects requires research, analysis, public outreach, and creating budgets.  As teens delve into these new and exciting steps, it helps them explore future careers.  Each student becomes interesting and fully vested young people.  I am thrilled that other schools are also giving students access to these opportunities instead of forcing them to take AP classes and bury themselves in memorizing facts for one test at the end of the year.  America needs to provide our youth with skills to compete in the ever-changing world and we need to rethink what teens learn in high school.
[Source]