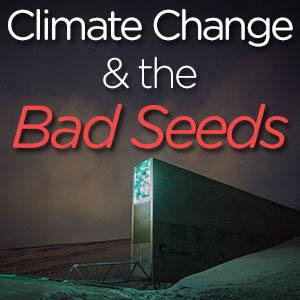 In 2008, the Norwegian government collected a million packets of seeds from around the world to place them in the Svalbard Global Seed Vault.  They did this to secure seeds to protect food crops from climate change, wars, and natural disasters.  It was designed as an impregnable deep-freeze so we could restart civilization in the case of a massive disaster. They buried the Global Seed Vault deep into a mountain inside the Arctic Circle with the hope that we would never need to retrieve it. Thank you Norway!
But with our extreme heat wave of 2016, meltwater has gushed into the entrance of the tunnel where the Global Seed Vault is located. The permafrost is melting and the "failsafe" protection that we were relying on in the case of a natural or man-made disaster is at risk. So far, the seeds are still safe but further melting of the permafrost leaves the Norwegians concerned.  They are building a waterproof 100-meter tunnel and digging trenches to channel the water away.  Thank goodness their government understands the importance of protecting seeds and searching for solutions to climate change.
I hope people are listening and doing their part to reverse climate change.  I just wish our government – the oligarchs – would set policies to save civilization rather than destroy it. ARGH!