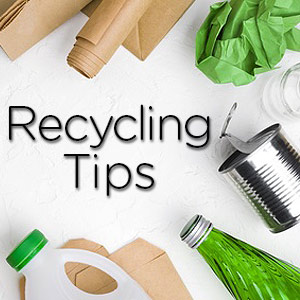 Being married to a "tree hugger" for over 30 years, you would think I'd know what is recyclable and what isn't.  Right?  When in doubt, I'd just toss it in the recycle container so I wouldn't feel guilty throwing into the trash…  A new report by Global Citizen states that there's been an 84% increase in what is REJECTED for recycling!
Here's what can be recycled:
- Recyclable containers that are NOT contaminated by food (wash out plastic bottles and tin cans)
- Cardboard containers (pizza boxes) need to be free of oil and food
- Plastic bottle tops (remove caps from the bottle)
- Recyclable coffee cups
- Cups WITHOUT a thin layer of polyethylene (use metal or ceramic reusable cups instead)
Here's what CAN'T be recycled:
- Kleenex tissues
- Containers contaminated by food waste
- Toothpaste tubes
- Plastic toys
- Wrapping paper
- Mylar food bags (chips)
- Anything that is put in plastic bags to recycle
- Batteries (take to Household Waste Collection centers)
- Any food waste: eggshells, peels, compost
- Old clothes
Use reusable items when possible.  When you do need to recycle, do it properly.  Just be sure that no items that have been contaminated by food end up in your recycle bin!  Happy Earth Day!