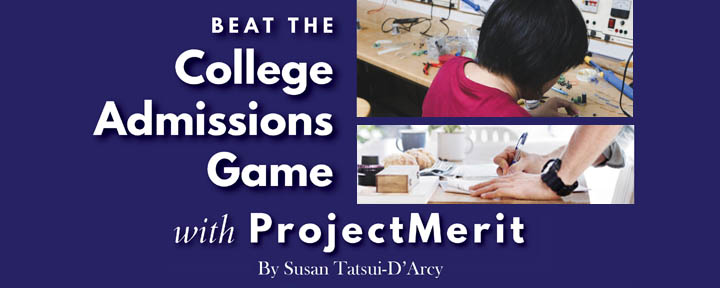 With all of the shocking news and chatter around the college admissions scandal, I wish the news would stop focusing on how the rich and famous buy their way into colleges, and instead, focus on what everyone can do to stand out in the college admissions process. Because GPAs vary between schools – some schools give A's when students participate in class and turn in homework, while others only give A's to a few well-deserving students, colleges know that grades mean different things at different schools. Many colleges have dropped the SAT or ACT requirements and only the Ivies and Stanford are requiring the SAT II exams.
So what makes college admissions officers notice an applicant?
A PROJECT. When a student starts a business, writes a book, creates an app, engineers a device, or organizes a non-profit, they stand out. It's not rocket science, but it does take some thought and perseverance. These projects aren't part of a school assignment or a club responsibility.  They're something that fascinates the student and something they can do on their own. 
Projects can be started in 9th grade or any time while they're in high school.  They can work with mentors to help them develop their projects and advisors to guide them through the process.  While doing their projects, they'll learn how to set up a budget, lay out a timeline, promote their ideas, send press releases, and recruit volunteers.  Check out these projects!  These valuable skills can help them in high school, college, and career. I find that students who do projects become self-confident, innovative, and proactive. 
While some parents are willing to pay millions of dollars to get their kids into top colleges, smart parents give their children opportunities to develop professional skills that get into college on their own merits!